What are electric forklifts?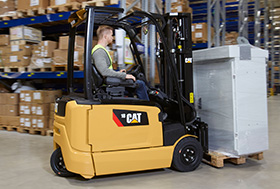 In the last few decades, electric propulsion has been the focus of huge amounts of investment and development, and for many good reasons. Electric cars are becoming more sophisticated, advanced, and affordable but it isn't just personal and public transport that stands to benefit from the voltage revolution, as industrial vehicles and machinery like forklifts and counterbalance trucks are also prime candidates for electrification – but precisely what are the benefits for the manufacturer and, most importantly, for you the customer? How do these new models compare to more conventional diesel and LPG-powered forklifts, and what can they be used for?
To clarify, the 'electric' aspect of the name is referring to how the vehicles are powered, instead of their lift mechanisms which are typically still hydraulically controlled. Electric forklifts might be operated by pedals or hydrostatically, just like traditionally powered examples, and it really depends on which specific model you choose. What unites them all is the fact that instead of being powered by pistons igniting liquid, they all make use of silent but powerful electric motors.
What are the benefits of electric forklifts over other types?
For a start, there's a much greater degree of simplicity when it comes to the inner-workings of an EV powerplant. Compared to a traditional ICE (internal combustion engine) that has a plethora of moving parts that all have to work together at once to turn fuel into motion, electric motors are extremely simple in how they operate. If a fan-belt snaps, or a water pump breaks and stops pumping coolant around a diesel engine, then the whole machine grinds to a halt, and then you're left with a forklift out of action and a potentially costly repair bill.
There are a host of complex mechanisms and systems that an electric vehicle has no need for, which makes them much more streamlined in their design and operation. For instance, whilst a diesel engine needs a whole fuel system – a large tank to store the liquid fuel, pumps, injectors, and a heavy exhaust set-up – something like a CAT EP16-20A( C )N or similar forklift model simply needs a motor and batteries, a much more elegant solution.
Equally, transmissions are no longer needed. Electric vehicles, including road cars like the Tesla Model S or Porsche Taycan, don't require a gearbox with multiple speeds in order to accelerate, and instead just need a differential. Transmissions are heavy, expensive, and extremely intricate pieces of engineering which they both cost a lot to produce and cost just as much to repair should things go wrong.
Electric motor drivetrains aren't just easier for the mechanics who have to carry out maintenance on them, but they also make life a lot simple for the operator. The aforementioned lack of a transmission means that there's no need for a clutch pedal, and no need to worry about increasing revs for an incline start.
It's no surprise that electric vehicles, such as forklifts from CAT's EP family, are much less harmful to the environment by a huge margin compared to a traditional fuel-burning equivalent. An electric forklift doesn't produce CO2 emissions – in fact, they don't emit anything at all. A diesel-burning variant not only belches out carbon dioxide but also a number of other chemical by-products, so not only do they negatively impact the atmosphere but also your local environment. This lack of emissions, noise, and fumes that can often be pretty unpleasant, makes electric forklifts ideal for industries handling food and drink such as fisheries, factories, or in supermarket warehouses to name just a few apt applications.
From a day-to-day practicality standpoint, it's also much more cost-effective to charge up a battery pack than it is to continually refill up diesel or LPG tanks, especially as these resources become increasingly rare and increasingly expensive. Naturally, electric vehicles do still require power to charge, and that electricity does often come from powerplants that burn coal and emit CO2 themselves, but the levels of pollution overall are dramatically and indisputably lower overall for EVs.
Another thing that is notably lacking from electric motors is noise. All fuel-burning engines make a lot of noise, which is hardly surprising given how they essentially function from hundreds of small explosions per second. In a classic exotic car, that sound might be part of the sensational experience, but on a work site it can be a distracting nuisance and even potentially damaging to the hearing of employees. With no sound coming from the motor itself, electric forklifts and counterbalance trucks can help significantly reduce overall noise levels, making for a less chaotic and more focused environment.
What are they useful for?
Something that has previously been off-putting about electric propulsion, whether for public or commercial use, has been concerns about battery life. With very powerful motors, small battery packs would run out of juice extremely quick and battery packs that were big enough for a decent range would have weighed thousands of kilos. But manufacturers have moved way beyond that early stage, and now lithium ion battery technology is much more sophisticated. Charges now last for a much longer duration, and have also become far lighter, meaning that electric forklifts for sale today certainly have the endurance needed to keep powering on.
Not only are the batteries more advanced and more powerful than ever before, but it also eliminates the need to have on-site fuel tanks and other potentially risky flammable materials. Instead, only standard industrial electrical outlets can be used to charge your vehicles.
For the designers and manufacturers, electric motors and batteries are also more practical because it means they can make their products more efficient to make, which is good for both them and you. Where a traditional piston engine and drivetrain takes up a lot of room both vertically and horizontally, often in weird irregular ways, electric motors and battery packs can be packaged much lower and in a more regular shape. Not only does this make the centre of gravity lower (which aids manoeuvrability and safety) but it means they can use the same electric powertrain in other forklifts without costly redesign.
Electric propulsion is by no means the only forward-thinking piece of equipment or software that has been developed by the makers of these forklifts and counterbalance trucks. Most also come equipped with a whole shopping lift of extra tech all designed to optimise safety, operator control, and productivity. In the CAT EP range, many models come fitted with computerised systems such as RDS, which continually monitors pedal position to ensure the vehicles movements are as smooth and without jerkiness as possible, which would be especially useful when moving fragile goods and materials around warehouses.
Features such as magnetic brakes, advanced 4-wheel steering for maximum manoeuvrability in confined spaces, load-sensing self-adjusting hydraulics, are just three of many that CAT utilises to optimise the performance of its electric forklift range.
What types of industries/businesses are electric forklifts useful for?
For cars, planes, and other forms of transportation, there are some obstacles that engineers and designers are having to overcome with electric powertrains and those are long-distance range and top speed. But in the context of forklifts and other industrial machinery, these two issues really aren't a hindrance whilst the major advantages of this type of propulsion are perfectly suited to moving and manoeuvring heavy objects.
One key strength of forklifts fitted with electric motors like the CAT Electric Forklifts EP range is their acceleration and manoeuvrability. Electric road-cars, such as the Tesla Model S, have been known to have extremely urgent acceleration and launch off the line that can embarrass supercars worth five times as much money, and there's a reason for this. Unlike a traditional engine, electric motors can produce all of their torque immediately from zero RPM. Of course, a forklift is a piece of industrial machinery that you're unlikely to take drag-racing on the weekend, but that instant torque is still extremely beneficial for zipping around warehouses and worksites with much greater ease.
Acceleration is useful, but how well can electric forklifts shift pallets or concrete blocks or other heavy industrial loads? Well, compared to diesel or LPG engines, electric motors produce a truly colossal amount of torque for their size, and that torque is what allows a forklift (or any load-bearing vehicle) to move heavy weights with ease. It's this combination of acceleration and strength that makes electric propulsion a great solution to the problems a forklift or counterbalance truck needs to overcome.
When it comes to range, the development of battery technology means that the current generation of these vehicles on sale today have more than enough charge to travel a large distance around a warehouse floor, port, or manufacturing plant.
Just as their counterparts that use diesel or LPG, electric-powered forklifts have a wide and varied range of industrial uses. With a variety of models available with varying technical specifications, you could use an EV forklift in; food and drink production/distribution; warehouse operations; manufacturing; chemical plants; fisheries; moving machinery or other heavy equipment, and many other types of industry.
Electric forklifts are especially suited for indoor applications, thanks to their lack of emissions and the lack of engine noise. Not only that, but many of the CAT EP range are also compact enough to be highly manoeuvrable and smoothly operated in these confined busy environments. However, there are also models designed for larger, heavier loads, such as the EP40-50( C)(S)2, which has a more powerful motor, stronger chassis, and more durable tyres in order to achieve this extra capability.
The technology is becoming much more widespread and sophisticated, and the range of different models optimised for different tasks (as well as the optional customisation that is available) means that there is very likely an electric forklift or counterbalance truck on sale that is ready to take on whatever task you have in store for it.
Contact us today to find out more about how we can help you with CAT Electric Forklifts.
https://www.radnes.com/wp-content/uploads/2020/03/3-Wheel-48V-Electrick-forklift.jpg
719
599
radnessadmin
/wp-content/uploads/2019/04/Logo-2-300x107-1-300x91.png
radnessadmin
2020-02-25 15:24:24
2020-03-01 15:31:03
Electric Forklifts – Your Ultimate Guide