2020 has been a difficult year for everyone, for a number of reasons. We'd like to start by wishing you a very Merry Christmas and hope that this difficult year ends with a happy festive period for you. We also hope you will have a healthy and prosperous 2021. One of the many things that have happened in 2020 is that online shopping has skyrocketed. While this means warehouses, order fulfillment centers, and all manner of other logistics businesses are making good money, it has placed enormous strain on their infrastructure. With this demand not seeming to end any time soon as we go into an uncertain 2021, it's imperative that you invest in quality warehouse equipment to meet it.
What do you actually need?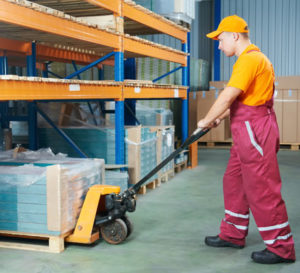 Electric pallet trucks
When efficiency improvements are required, you can look no further than electric pallet trucks. They provide the same function as a normal pallet truck, but with the added benefit of an electric battery and motor. These two things make raising and lowering the pallet, as well as moving the pallet truck itself, easy thanks to the electrical assistance. Electric pallet trucks generally offer higher weight limits than their manual counterparts too, which means your operators will be able to move even heavier loads without sacrificing efficiency. If you invest in an extra battery you won't have to think about downtime either – most electric pallet trucks are designed with quick-swap battery systems, allowing your operators to swap in a charged battery in a matter of moments.
Manual pallet trucks
Manual pallet trucks have been in constant use throughout warehousing and logistic organisations for many years, and they will continue to be so. If you're thinking primarily about your budget, you will find it goes the furthest when looking at manual pallet trucks. The downside is that you won't have quite so much assistance in operation for your employees as you would get from an electric pallet truck. The real sensible thing to do is invest in a mix of manual pallet trucks and electric ones too, to ensure you always have the right pallet truck available to suit your needs as they arise.
Order pickers
Order pickers look similar to pallet trucks, but they are generally designed to be ride-on pieces of equipment. They fulfill a simple, yet essential role by transporting the operator to where the relevant order is stored, and using the picking platform to carry that order through to be processed and shipped. They can also be used in the reverse process to help store inbound stock. Order pickers make the transportation of heavier items much easier and more efficient, which can be a considerable benefit when you're trying to process as many orders as possible throughout a regular working day.
Reach trucks
Reach trucks, as the name implies, are designed to reach orders stored in high places. If you're maximising the usable space in your warehouse by having floor to ceiling shelving and order storage, a reach truck becomes a truly invaluable piece of equipment. They can be purchased in various reach height and weight limits, depending on your requirements. With a skilled operator, they can greatly increase your overall operational efficiency.
Quality matters now more than ever
Whatever kind of warehouse equipment you're going to be investing in, it's essential that you choose the best possible quality you can afford. It may even take a little more upfront investment than you were anticipating, but the benefits will be considerable. As we go into 2021 the demand placed on fulfillment and logistics centers is not likely to let up – rolling Covid restrictions are not going anywhere for the foreseeable future, which means more and more people are going to continue relying on online shopping. As such, you need to be able to meet that demand on a consistent basis, which requires reliable equipment. We're proud to be an official CAT dealer, and the range of warehouse equipment CAT offers can provide the very things you're looking for – usability, versatility, and of course reliability. In a busy warehousing environment, you need equipment that you can keep running on a rolling 24-hour basis if necessary, without having to worry about factoring in unscheduled downtime due to mechanical problems and breakdowns. CAT equipment offers that peace of mind.
Contact us to help choose your range
If you're interested in investing in quality warehouse equipment to see your business through the complex and ever-changing demands 2021 is sure to bring, all you have to do is contact us. A consultation with our friendly and experienced team can give you some valuable insight into the warehouse equipment you need, and we can offer you a flexible range of purchasing options to suit your budget. Customer service and quality warehouse equipment are what we provide.
/wp-content/uploads/2019/04/Logo-2-300x107-1-300x91.png
0
0
radnessadmin
/wp-content/uploads/2019/04/Logo-2-300x107-1-300x91.png
radnessadmin
2020-12-21 17:23:04
2020-12-21 17:23:04
How the rise in online shopping can affect your warehouse equipment needs